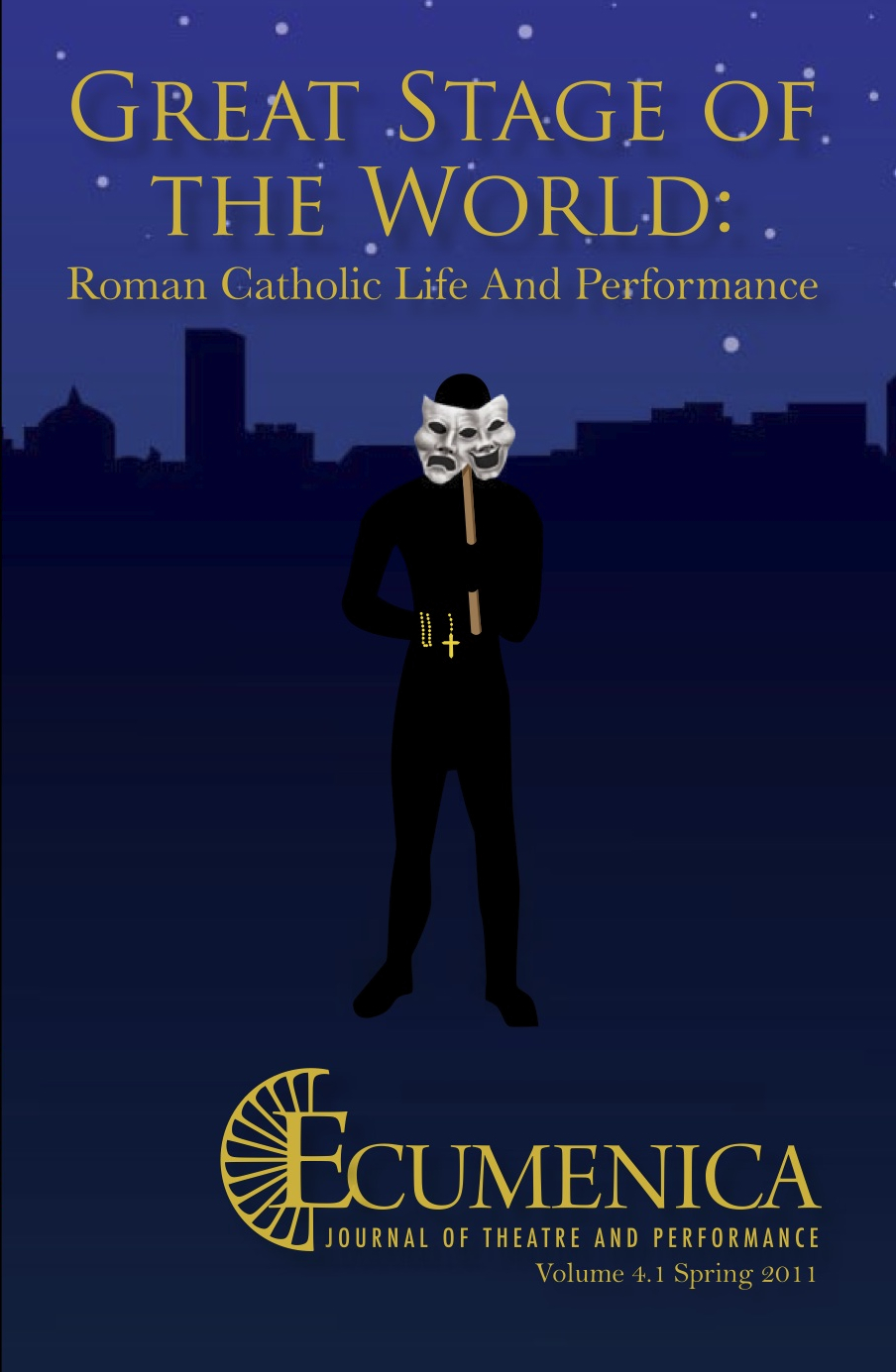 Great Stage of the World, Roman Catholic Life and Performance
Spring 2011
Letter from the Editor
Carolyn D. Roark
Editorial: The Church, The "Anti-Church," and Singing, Dancing Nuns
Kevin J. Wetmore, Jr., Guest Editor
Feature: A Public of One: Jesuit Discipline in the Theatre in the World
Will Daddario
Abstract: This essay aims to see through the antitheatrical appearance of Ottonelli's peculiar dramatic text titled Of the Christian Moderation of Theatre (Florence 1652), in order to discern the mechanics of a "molecular repertoire" of Jesuit conversion, an expressly theatrical mode of pastoral care. Daddario argues that Ottonelli's writings help us in the present to move beyond purely positive or purely negative assessments of Jesuit theatre in favor of engaging with that theatre as a potent and irreducibly complex mode of living life. The article analyzes Ottonelli's treatise and offers historical contextualization of the Jesuit order.
Feature: What the Archbishop Saw: A Byzantine Christian Watches Catholic Sacred Plays
Andrew W. White
Abstract: The question of whether the Greek-speaking Eastern Roman Empire (Byzantium) ever had a sacred drama of its own has remained unresolved, due to the scattered and questionable nature of the primary source material. But the reason for Byzantium's apparent reticence becomes clearer when we consider the carefully-crafted theology of the sacred image (icon), and the presumed relationship between the icon and its viewer. As further reflected in Archbishop Symeon of Thessalonica's "Dialogue in Christ" (ca. 15th century) the theology of the icon underlies the Orthodox Church's rejection of sacred plays like the Italian sacra rappresentazione because of their crude materiality.
Feature: With an Altar for a Stage: Protest, Possibility, and Trans-Performance Within a Roman Catholic Womenpriests' Ordination
Jill Peterfeso
Feature:Performances that Matter: Theory and Practice on a Catholic University Campus
Monica Stufft and Michael Frederick Ahmad
Abstract: This article explores how two student-created performances responded to and participated in ongoing value clashes over sexuality and gender on Catholic university campuses. The authors consider the implications for art making that arguably diverges from official church doctrine, and the ways that performances function both conservatively and subversively. By both helping to preserve the tradition of the university and foster new ways of thinking, disciplinary methods drawn from performance studies provide useful, if also provocative, strategies for navigating the relationship between theory and practice within Catholic universities.
Highlight:Interview with James Martin, SJ
Amber Jackson
Highlight:Our Lady of [N-Town]
David J. Eshelman
Profile: Father Rick Curry, SJ
Joseph Talarico
Book & Performance Reviews:
Danny Devlin—Staging the Old Faith: Queen Henrietta Maria and the Theatre of Caroline England, 1625-1642, Rebecca A. Bailey
Rebecca Lutrell Briley—Acting Between the Lines: Field Day Theatre Company and Irish Cultural Politics 1980-1984, Marilynn J. Richtarik.
Ben Fisler—Doubt: A Parable, Lipscomb University, Nashville, TN

Amber Michelle Wright—The Oberammergau Passion Play 2010, Oberammergau, Germany