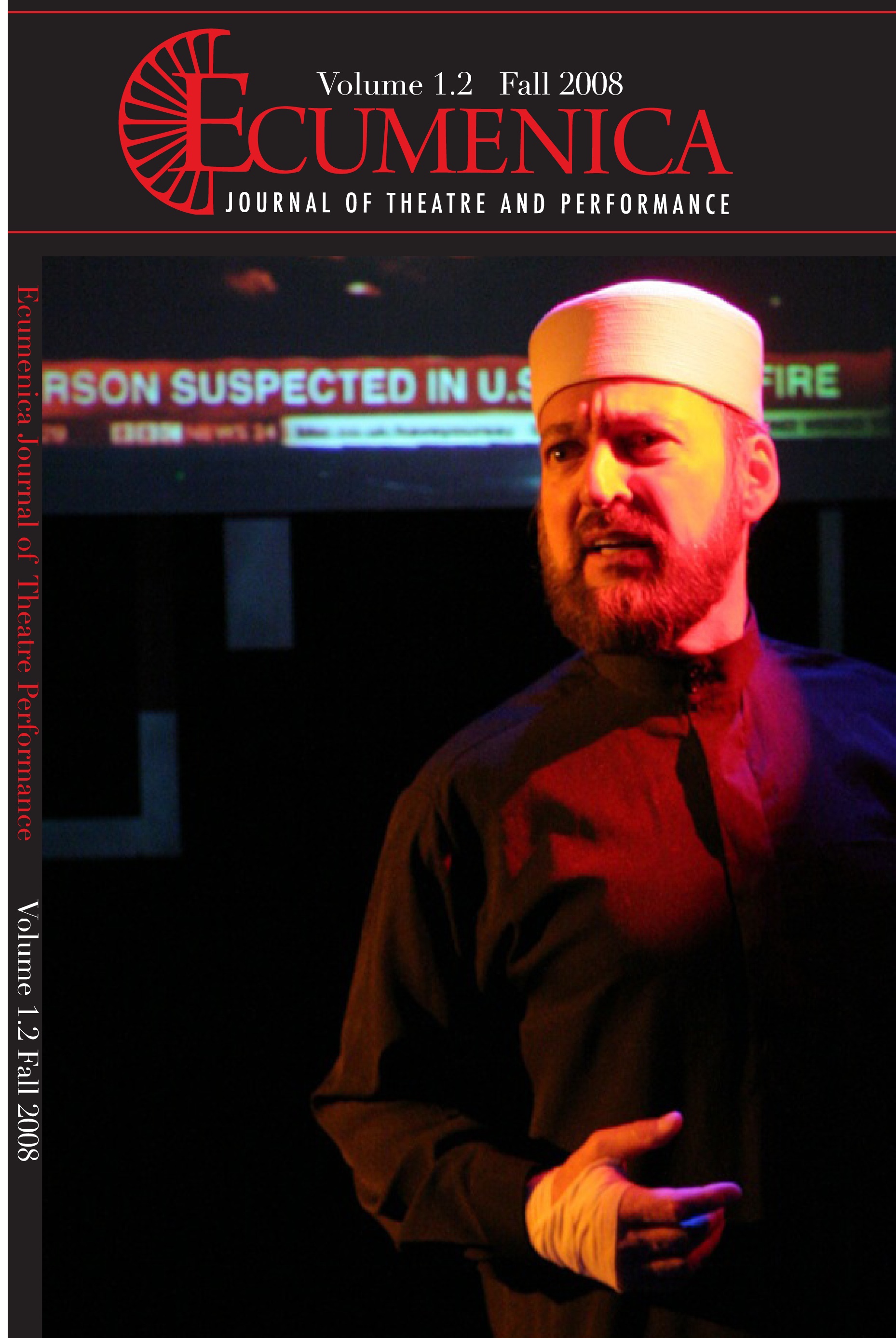 Performing Islam/Muslim Realities"
Fall 2008
Letter from the Editor
Carolyn D. Roark
Editorial: Against Cropped Truths
Marvin Carlson & Hazem Azmy
Feature: Global Consciousness and Cosmopolitanism in Lina Saneh's
Appendice
Eyad Houssami
Abstract: Lina Saneh, a theatre and performance artist based in Beirut, reflects in her playAppendice on the relationship between the citizen's body and the body politic. In the play, Saneh sits silently in front of the audience while her partner and performer Rabih Mroué speaks on her behalf. He announces that Saneh offers her body parts on sale on the Internet after her death in exchange of the promise that the buyers are going to burn them. Through this request Saneh denounces Lebanon's prohibition on cremation. Appendice is a performance that is simultaneously geographically located, international, and virtual. By appealing to a global consciousness of moral responsibility, the play reveals its aspirations to cosmopolitanism, calling for the prioritization of the individual as a global subject.
Feature: Khutbah/Community: Islam, Preaching, and Congregational Identity
Peter Civetta
Abstract:  Peter Civetta describes notions of Islam and Muslim identity expressed and experienced at New York's Al-Nur Mosque over three years of observation. Unique because of the diversity of its population, congregational identity comes through the performance of themselves during the weekly gathering and the witnessing experience. Civetta suggests that these performatives are, for the congregants, embodiments of their belief. Imam Kopuz's khutbahs, or sermons, focus on what unites the community and ensures that divisive issues do not become disruptive to the community of faith. Civetta highlights the performativity of the khutbah, thus moving from its form and content. Imam Kopuz's khutbah moves from self-expression to self-erasure, from the informative to the performative, thus blending the relationship between performance and content with a performative goal of getting his congregation to change how they act and interact with the greater culture.
Feature: Islamic Sufism and Malay Adat in Two Plays by Malaysia's Noordin Hassan
Mona Khedr
Feature: The Global Dervish: Intercultural and Intracultural Appropriations of the Sufi Performance Space
Laura Chakravarty Box
Highlight: The Comedy of the East, or the Art of Cunning: A Testimony
Lenin El-Ramly
Profile: Golden Thread Productions
Serge Bakalian
Profile: Silk Road Theatre Project and Yusuf El Guindi's Our Enemies: Lively Scenes of Love and Combat
Jennifer Shook
Profile: Progress Theatre
Cristal Chanel Truscott
Profile:  Theatre of the World Festival 2009, Many Stories, Many Truths: Voices of the Middle East
Dani Bedau
Book & Performance Reviews:
Khalid Amine- Poetics, Politics and Protest in Arab Theatre: The Bitter Cup and the Holy Rain, Mas'ud Hamdan
Rohaizad Suaidi- Strategies of Resistance in the Dramatic Texts of North African Women: A Body of Words, Laura Chakravarty Box
Areeg Ibrahim- Short Arabic Plays: An Anthology, Salma Khadra Jayyusi, ed.
Marvin Carlson- Verbrennungen (Scorched), Akademietheater of Vienna
Benjamin Whistutz- The Satanic Verses, Hans Otto Theatre of Potsdam, Germany
Margaret Litvin- The Veiled Monologues, Yale Repertory Theatre