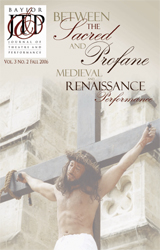 Between the Sacred and Profane: Medieval and Renaissance Performance
Fall 2006
Letter From the Editor
Editorial: Reclaiming the "Sacred" from the "Profane"
K. Sarah-Jane Murray & Sinda K. Vanderpool
Feature: "I Was Never Bard 'Ere": Creation and Charity in the Wakefield Play of Noah
Veronica Alfano
Abstract: Given the didactic aims of many medieval plays, it is somewhat surprising to find the Wakefield Noah and his wife ("Uxor") engaging in comical fabliau-type antics. How can Noah be both God's representative on earth and a perpetually henpecked husband, and how can a performance both make audiences laugh and provide them with theological instruction? The stubborn Uxor disrupts Noah's role as virtuous Ark-builder as she places her own creative acts – not only domestic activities but also bold rewritings of Biblical symbolism – on a par with her husband's. Yet in so doing, she also allows viewers (or readers) to find an imaginative place in the onstage world. The divine quality of forgiveness emerges as Noah's once-flawed family reunites in harmony; the presence of farcical discord dignifies all spiritual states by teaching that unearned grace is ultimately necessary for salvation. Humans become both recalcitrant sinners and redeemed children of God.
Feature: The Depiction of Jews in the Carnival Plays and Comedies of Hans Folz and Hans Sachs in Early Modern Nuremberg
John D. Martin
Abstract: Martin argues that these dramatic works go beyond Bakhtin's understanding of the carnivalesque as a "safety valve" in an attempt (not always successfully) to influence popular conceptions and effect actual social and political change, primarily for the Jews living in Nuremberg.  Folz's late work supported the expulsion of the Jews from the city, while Sachs uses the stage to defend Reformation Christianity as the true path, above Catholicism and Judaism.  Both playwrights' works contains theological content, thus illuminating how early modern German Christians and Jews interpreted similar religious texts.  Together, their work also trace changes in stage representations of the Jews.
Feature: The Actor's Carnal Eye: A Contemporary Staging of the Digby Mary Magdalene
Peter Cockett

Abstract: Crockett chronicles his experience with the production of the Digby Mary Magdalene, with particular attention to the performance of the lead role. Comparing the acts of reading and of producing this play, he explains two different ways of knowing and the use of affective imagination. He examines this process in relation to contemporary practices and affective piety via the writings of medieval mystics and the work of theorist/director Jerzy Grotowski
Feature: Apocalypse Then: Tamburlaine and the Pleasures of Religious Fear.
Richard Hardin
Abstract: Religion provided early modern audiences with an extensive and vivid reservoir of visual imagery and emotional experience. Almost three hundred biblical references are found in the two Tamburlaine plays, many of which create Tamburlaine as a parody-figure of Christ. Part Two in particular shows Marlowe busily evoking the imagery of end-time. This essay argues that Marlowe, following Aristotle's Rhetoric, employs this apocalyptic language in order to evoke feelings of woe and wonder in his audience. To understand Marlowe's method requires a shift in the way we understand religion on the early modern stage: he empties religion of theology and uses it instead as a rhetorical tool. It was, Hardin says, Marlowe's genius to realize the possibilities of exporting the language and imagery of religious terror to the popular stage.
Profile: The Passion of Christ and Ritual Performances in Fifteenth-Century Ferrara
C. Thomas Ault
Highlight: Shakespeare's Twelfth Night at the Armstrong Browning Library, A Performance Report Stephen Prickett   Book & Performance Reviews:
Anna Andes-Theatre and Society in the Classical World, Ruth Scodel
Peter Civetta-Death by Drama and other Medieval Urban Legends, Jody Enders
Elizabeth Williamson-Shakespeare's Religious Allusiveness: Its Play and Tolerance, Maurice Hunt
William Grange-The Longing for Myth in Germany,George S. Williamson
Stacey Connelly-"Via Crucis" at San Fernando Cathedral of San Antonio, Tx
Steve Earnest-"MacBeth" at the Old Globe, San Diego, CA
Eric Thibodeaux-Thompson-"Nathan the Wise" at Chicago Festival of the Arts, Chicago, IL