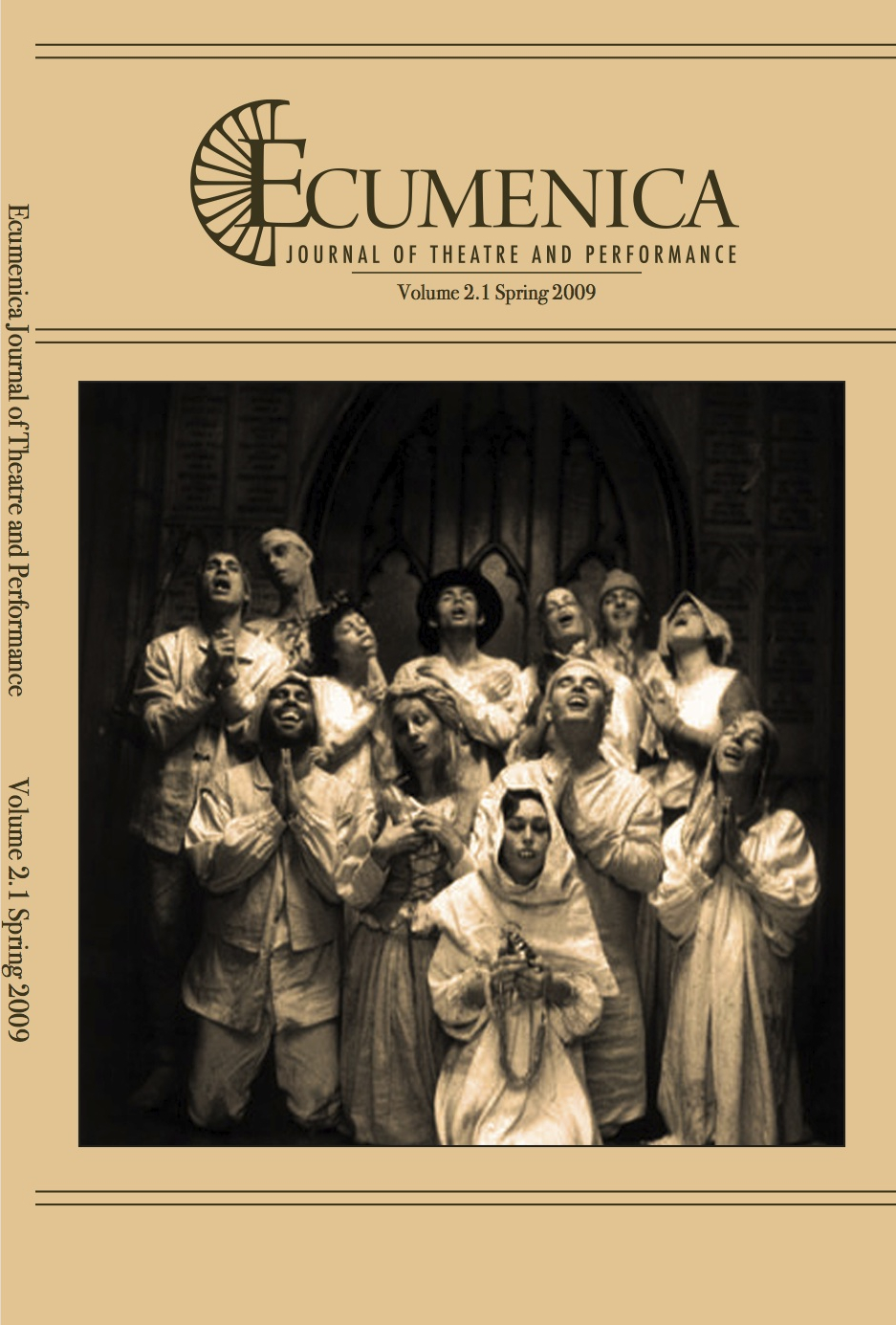 Carolyn Roark
Theatre making is, at heart, a utopian endeavor. With every production, we strive to make a perfect world— precisely lit, evocatively costumed, populated with irresistible characters, following a flawless story arc. Even if you don't believe in the perfectibility of our own reality, it is what we aim for on stage. No surprise then that as an artistic and social praxis, theatre should draw the kind of work that is bent on bringing paradise now, as well as the kind that challenges whether it can exist at all. Religious and secular traditions may have disparate notions of what precisely constitutes an ideal world, but they have this in common: the promise of wholeness and harmony for human beings that permeates both the individual and the collective experience of life.
The features of this issue of Ecumenica are preoccupied with redemptive and healing work. (Serendipity, not conscious design, determined this.) Michael Winetksy explores an early twentieth-century attempt to create a dialogue between religious and scientific impulses through Darwin's theories in "A Playwright of Pragmatism: Susan Glaspell's Unity of Science and Religion." James Penner's "The Living Theatre and its Discontents: Excavating the Somatic Utopia of Paradise Now" makes a strong case for greater scrutiny of the group's particular brand of idealism. In "From Filth to Faith: Creating Holy Ground in New York's Five Points," Bradley Griffin takes up the performative dimension of Charles Grandison Finney's preaching in the converted Chatham Street Theatre, the impact of the space's former identity on its new life as the Chatham Street Chapel, and how Finney used both his showmanship and his environment to carry out an impassioned evangelical mandate. Using Breuggemann's paradigms of abundance and scarcity, Rhett Luedtke reads David Edgar's play Pentecost as both an exploration of fractured postmodern global politics and a hopeful illustration of transcendent understanding between human beings.
Our highlights and profiles largely continue the same conversation. Angela Konrad interviews Ron Reed, director of Vancouver's Pacific Theatre, about the professional company's efforts to give plays that resonate for secular audiences and for the faith community to which they belong. Reed suggests that their success is less a matter of balancing the expectations of two opposing groups than demonstrating to the community-at-large that the spiritual life and the aesthetic can be fully integrated. Elizabeth Cawn's profile of Dzieci Theatre describes a New York-based group that combines Grotowski's notion of the holy actor with influences from humanistic and existential psychology. The resulting performances promote healing and wholeness both for the patient and the caregiver. In his profile of Life Stage Theatrical Troupe, Inc., Rev. Bob Versteeg describes how one grassroots organization has brought performance into grief counseling and other trauma recovery programs in Ohio. Our final profile, in which Danielle Brune Sigler discusses the Harry Ransom Center Archive, makes a slight departure from these themes. It is included here because the HRC's vast holdings include a number of collections connected to religion/spirituality studies, and our readership should know that such a resource exists. Its yearly fellowship program permits scholars to utilize their resources via short-term residencies. In my perfect world (heaven, nirvana, utopia, or what-you-will), such institutions exist on every city block.
Fredrick Buechner said, "The place where God calls you to is the place where your deep gladness and the world's deep hunger meet." This issue of Ecumenica digs deep into those hungry places; it ponders (and sometimes scrutinizes) those who have believed themselves called to respond. Some, like Glaspell and Edgar, aimed to create dialogue between competing discourses; others—Finney, The Living Theatre, Dzieci, Life Stage—have hoped to bring their fellows out of brokenness and into peace. Marvelous, audacious, admirable projects all of them.
Still, it is well that we should both celebrate and excavate any performance that gestures to paradise. It behooves us to be cautious, even critical, when it comes to utopia. We know its opposite so well.